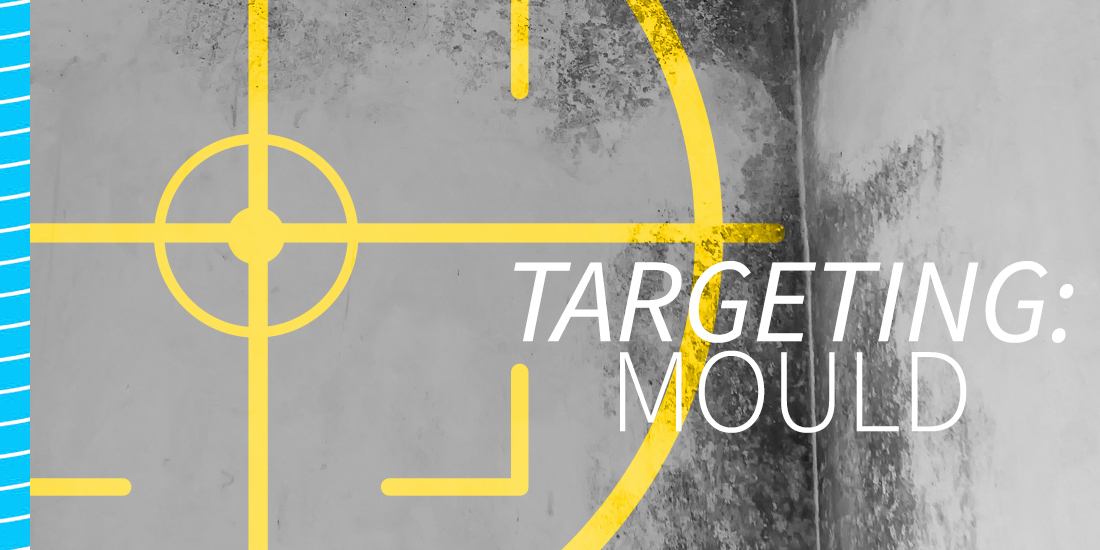 With an incredibly rainy introduction to 2022, Sunshine Coast residents are coming to terms with an unwanted household visitor: MOULD. After all the rain, mould is appearing in homes everywhere. If it's in your home.. rest assured, you're not alone!
The presence of mould is caused by wet, dampness, lack of ventilation and humidity [SRC: ABC] making these rainy days (and weeks and months!) the perfect opportunity for mould to proliferate. In this article, we take a look at the problems caused by mould and different ways that you can tackle it, to get back to living mould-free!
What are the Health Issues with Mould?
People can be exposed to mould through inhalation, skin contact or ingestion. The health effects include:
irritation of the eyes, nose, throat and skin
allergic reaction in people with a mould allergy (e.g. asthma flare-up or hay fever symptoms).
hypersensitivity pneumonitis—a rare lung disease where the lungs become inflamed due to an allergic reaction to certain inhaled substances (e.g. organic dust, fungus, mould or chemicals)
infection.
Most healthy people will not experience health problems from contact with mould, however the risk increases for people with:
asthma, allergies or other respiratory conditions may be more sensitive to mould
a health condition or undergoing medical treatment that lowers their immunity are more at risk of infection (e.g. cancer and its treatment, organ transplant recipients).
[SRC: worksafeqld.gov.au]
Ensuring Your Air-Conditioner Is Mould-Free
Air-conditioners circulate the air you breathe, so it's essential to ensure that they are clean and free of mould. This is particularly important on the Sunshine Coast, where high humidity, especially after rain, sees an increase in AC usage. We provide a professional clean & service for your split system or ducted air-conditioner. We recommend this service twice-yearly to ensure your system is running optimally.
Using Dry Mode to Reduce Humidity
Some clever ducted and split system air conditioning units offer the latest in cutting edge technology, which means they not only provide efficient cooling and heating for your home, but can humidify, dehumidify, ventilate and purify the air! [SRC: Daikin]
Make sure when you're assessing air-conditioner solutions on the Sunshine Coast, you take this into account, ensuring your AC has this capability. Learn more about new air-conditioners here.
General Mould Prevention
Mould is caused by wet, dampness, lack of ventilation and humidity. The trick to preventing mould, or inhibiting its growth, is to prevent these conditions from arising at home. This is easier said than done when it rains incessantly for 5 months; however utilising your air-conditioner or dehumidifier during these times can also be helpful. Here are some handy tips to prevent or inhibit mould at home:
Allow sunlight into your home, as much as possible.
Allow air to circulate. Open doors and windows.
Where does your clothes dryer vent it's air? If possible, arrange for it to vent outside, as this air can be very humid and if vented inside, can create mould-growing conditions.
Clean wet areas of the home regularly.
Wipe away any moisture you find, and try to keep the inside of the home dry.
Dry and air damp clothes and shoes outside if possible.
Clean carpets and rugs regularly using a HEPA (High Efficiency Particulate Filter) vacuum cleaner.
Clean evaporation trays in air-coolers, dehumidifiers and refrigerators regularly.
Don't run evaporative air cooling systems with water during high humidity (over 65%). If the air feels humid, run the air cooler without water and open the windows.
llow space between furniture and walls so air can flow, particularly wardrobes.
Don't stack boxes or other items against outside walls, especially walls that don't get a lot of sun.
Place absorbent beads in affected rooms to soak up extra moisture. You can buy these at the supermarket.
[SRC: ABC]
Steps to removing mould
Obtain personal protective equipment, including half-face disposable respirators with P1 or P2 filters, to avoid inhaling mould spores when cleaning. You'll find these at hardware stores.
Place drop sheets on the floor and exclude people from the affected area if they're not performing the work.
Get 2 buckets: 1 for cleaning solution and 1 for clean water.
Wipe the area clean with a microfibre cloth and cleaning solution. Don't put dirty cloths back in the solution; rinse them in the clean water to avoid cross-contamination.
After cleaning the area with the solution, wipe the surface with a damp cloth. Don't use the same cloth you used with the solution.
Wipe the surface dry with a clean cloth.
[SRC: qld.gov.au]
Making Mould Remover
Here are some tips for removing mould from qld.gov.au. They're particularly useful because they include different options, so depending on what you have in the kitchen, you may not need to go shopping to get started.
Remove mould using a suitable mould remover, such as:
a solution of 3 parts vinegar and 2 parts water
a solution of 70% methylated spirits and 30% water
a solution of tea tree oil and water
commercial products from the supermarket. Follow the safety instructions to protect your eyes and skin.
Mould Removal Tips
---
Further Reading