For smoke alarm installation, testing, and compliance on the Sunshine Coast, talk to Noosa Electric Co. today. We provide a complete smoke alarm service, ensuring your home or business is safe and compliant. With changes in legislation happening, now is the time for action on your smoke alarms. Simply complete the enquiry form on this page, and our team will be in touch to discuss a solution for your smoke alarm issues.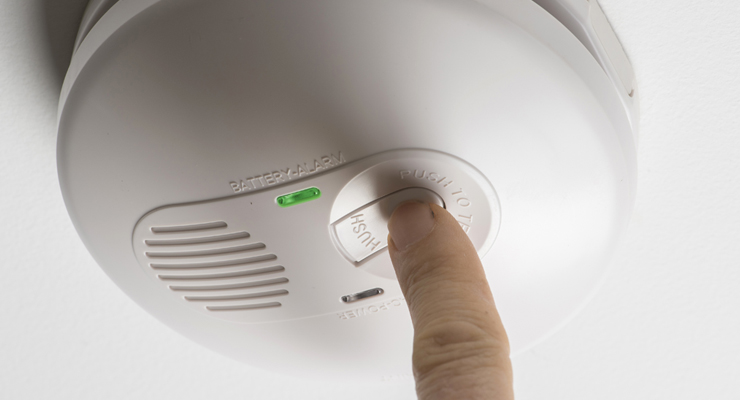 Noosa Electric Co. Smoke Alarm Services
Enjoy the difference of working with a dedicated team. Talk to Noosa Electric Co. for all of your smoke alarm installation, servicing & compliance needs, for home and business.
Smoke Alarm Enquiries
Simply complete the form below and our team will be in touch with you to either provide a quote over the phone or arrange a site visit (for larger or more complex jobs).
---
Smoke Alarm Information
Smoke Alarm Compliance Testing

Smoke alarm compliance testing will ensure that your property complies with all federal and state smoke alarm compliance obligations.  Smoke alarms must comply with Australian Standard 3786:2014, and be installed in-line with the Building Code of Australia part 3.7.2.3.

(Note that the laws in Queensland are in the process of changing, you can find out more below)

Federal and State legislation cover the specific requirement for the installation of smoke alarms. In addition, smoke alarms within rental properties must be tested and cleaned at least once every 12 months, and within 30 days prior to the commencement of a fixed tenancy.

For a fixed annual fee our team of electricians will ensure that you are never non-compliant again. We will schedule a site visit every 12 months, and at no additional charge attend your site within the 12-month period should you require cleaning and testing for a new fixed tenancy commencement. We will also complete a complimentary test of your Residual Current Devices (Safety Switches) while on-site.

Given we only use licensed electricians for the completion of compliance testing, we can replace non-compliant or failed smoke alarms and safety switches immediately.

All testing completed by licensed electrician. Faulty smoke alarms or RCD's will be changed while onsite. Additional cost applies.
Smoke alarm flat batteries changed at no charge
Price includes the preparation and delivery of compliance certificate should you request it
Additional visits required for compliance requirements (end of fixed tenancy) included in annual fee.
Note that this is not an emergency call out service. Our electrical team will response to call outs during our standard business hours.
New Smoke Alarm Legislation

Smoke Alarm laws are changing in Queensland. New rules are being progressively introduced and by 01 January 2022, all properties rented or leased will need to meet the new requirements in order to be compliant.

The new requirements state that for all properties rented or leased:

Smoke alarms must be installed in every bedroom of a home, every hallway connecting bedrooms
If there are no bedrooms on a level, at least one smoke alarm should be installed in the most likely path of travel to exit the dwelling
All smoke alarms must be powered by either 240 volt or 10 year lithium battery
All smoke alarms must be interconnected to each other
All smoke alarms must be photoelectric
All smoke alarms must comply with AS3786:2014

In excess of 500,000 properties will need to be upgraded prior to Jan 1 2022. Inevitably there will be a significant last-minute rush to meet the new compliance requirements. Why not consider getting ahead of the pack and consider your options today? Do not risk non-compliance. Simply complete the enquiry form on this page, and one of our friendly team will be in touch to provide you with advice, and a proposal for the upgrade of your property.

Futher information:
---
Importance of Smoke Alarms
---
Interconnected Smoke Alarms
Interconnected smoke alarms communicate with each other. When one alarm is triggered, all of the other alarms will also be triggered. This produces a more effective warning through the premises in the event of an alarm event. Alarms can be connected by wire or wirelessly. Talk to our team to find out more about how many alarms and the best type of alarms to use in your premises.
Photoelectric Smoke Alarms
When replacing smoke alarms, they must be of a photoelectric type which complies with Australian Standard (AS) 3786-2014. Photoelectric smoke alarms, also known as optical or photo-optical, detect visible particles of combustion. They respond to a wide range of fires, but are particularly responsive to smouldering fires and the dense smoke given off by foam-filled furnishings or overheated PVC wiring. Source: QFES