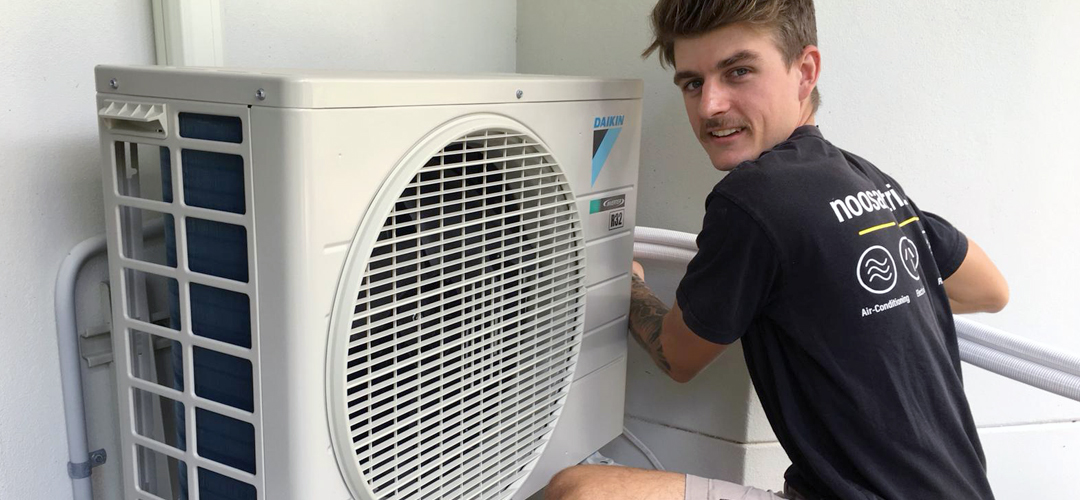 Air-Conditioners come in many shapes and sizes. Some are better-suited for tasks than others. For example, cooling a single room is a different requirement than cooling an entire house. What's the right one for your home or business? On this page we review the different types of air-conditioners so you can be better informed when making important buying decisions. For all air-conditioning sales, installation, repair and servicing on the northern Sunshine Coast, please contact our team for any assistance.
Types of Air-Conditioners
Following are popular styles of air-conditioning solutions:
Portable Air Conditioners
Portable air-conditioners don't require any installation – they are a standalone unit that you just plug in, like any other appliance. Although portable air-conditioners are relatively cheap, their energy-efficiency, running cost, cooling-efficiency and appearance may not make them a practical long-term choice.
Window Air Conditioners
Window air-conditioning units are an integrated air-conditioning unit that mounts in a window frame. All of the components are in a single unit, unlike a split system (see below) which comprise of (at least) 2 components.
Like portable units, they have a relatively low price-point and have the advantage of being easy to install. However, their ability will always be limited to the immediate area and they may not be a practical long-term choice in terms of their energy-efficiency, running cost and appearance. Any noise created by the running of this unit is also directly experienced.
Split System Air Conditioners
Split system air conditioning units are so named because the design splits the air-conditioner into two parts – an indoor unit and an outdoor unit. Although this means more work is required in the installation, separating the components achieves an efficient, outcome, that is also quiet since the hum of the condenser unit takes place outside. Split systems are one of the most popular air-conditioning solutions for both homes and businesses, and can be configured to suit a variety of air-conditioning needs.
Indoor Unit
The indoor unit is mounted inside and emits cool air into the room. This is the unit that you control (for example with a remote control) to manage the internal temperature. This unit is connected to the outdoor unit.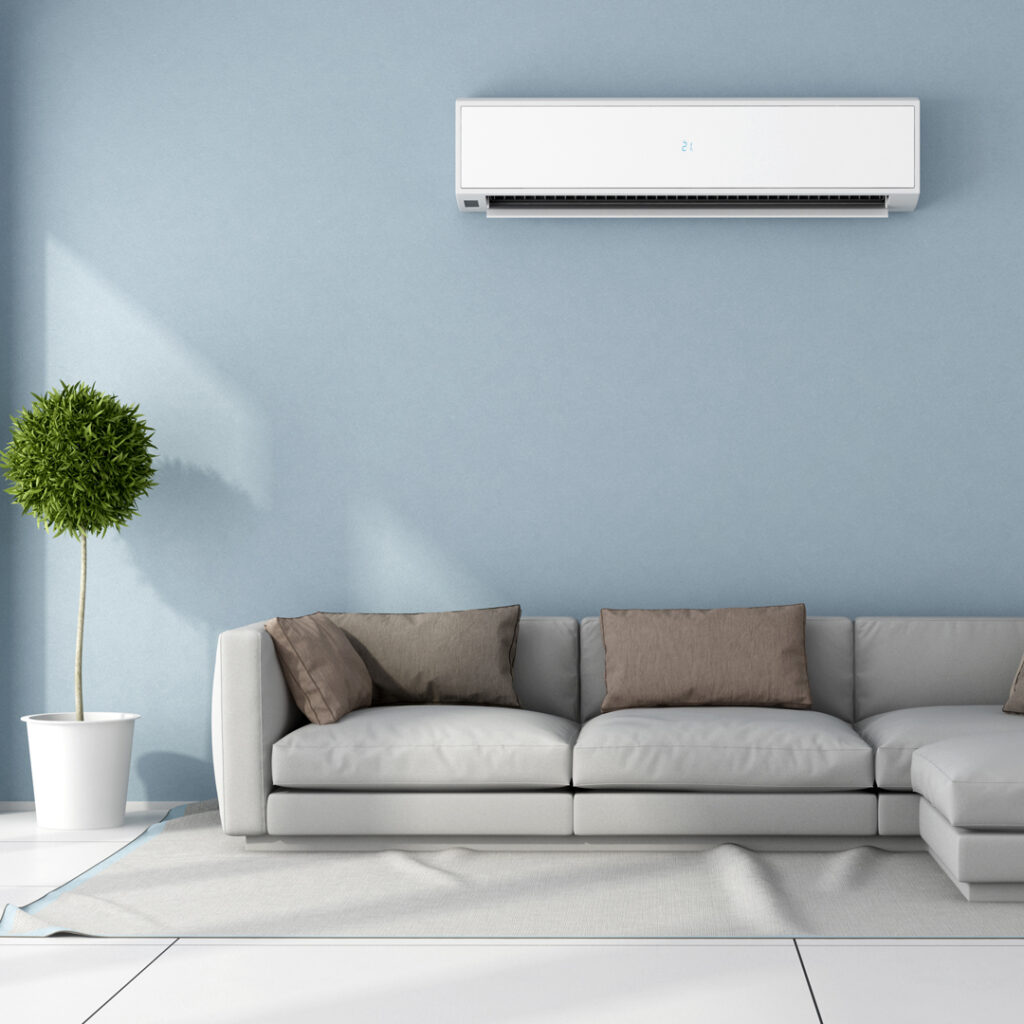 Outdoor Unit
Also known as the condenser or heat exchanger, the outdoor unit sits outside and works together with the indoor unit to produce your air-conditioning.
This image displays the external unit in a split system configuration. In this image, you can see the external unit, which is connected to the internal unit by the vertical piping. Split systems come an wide variety of configurations and can be optimised to suit your air-conditioning needs.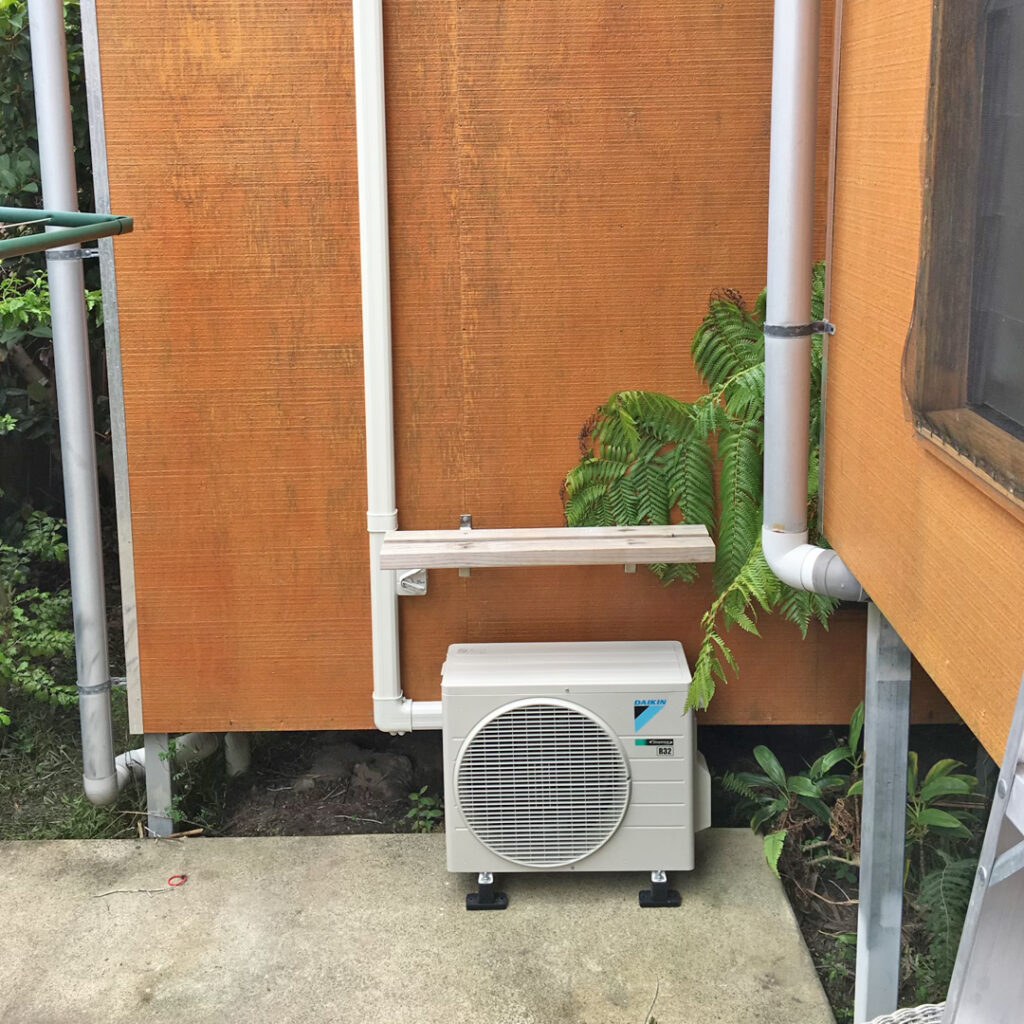 Multi-Head Split System Air Conditioners
A multihead split unit is a split system designed to service multiple rooms. It's the same principle as a split system (see above), except there is more than one indoor unit. Popular brands usually make a variety of models to cater for wider-ranging internal cooling needs.
Ducted Air Conditioners
Ducted air-con utilises a central unit to promote air to rooms via discreet, hidden ducts in the walls, floors and ceilings. Ducted air-conditioning systems are optimal for larger homes or commercial premises due to their efficiency, but because they are built-in, generally require installation as part of the build or a renovation process.
Floor Standing
Air-conditioners are usually mounted on the wall above head height, but sometimes this solution is not practical (for example, nowhere to mount it) and in this case a floor-standing unit can be the way to go. Floor-standing units are like a split system in all regards except that they are specifically mounted on the floor.
Bulkhead Systems
Bulkhead air-conditioning systems are a discrete split system option where the internal unit is tucked away inside the ceiling space, emitting cool air into the room via a low-profile grille. This achieves a cool result with minimal visual intrusion. However, this type of installation generally needs to be done as part of the home build or renovation process, as the internal unit is built into the ceiling space.
Cassette Air Conditioners
Cassette air conditioners are also based in the ceiling. However, unlike bulkhead systems, which are discretely tucked away, cassette systems are built into the ceiling, usually in the centre of the room, and although they're inline with the ceiling the unit is visible. This type of system is extremely effective as its central location enables the immediate 360 degree distribution of cool air around the room.