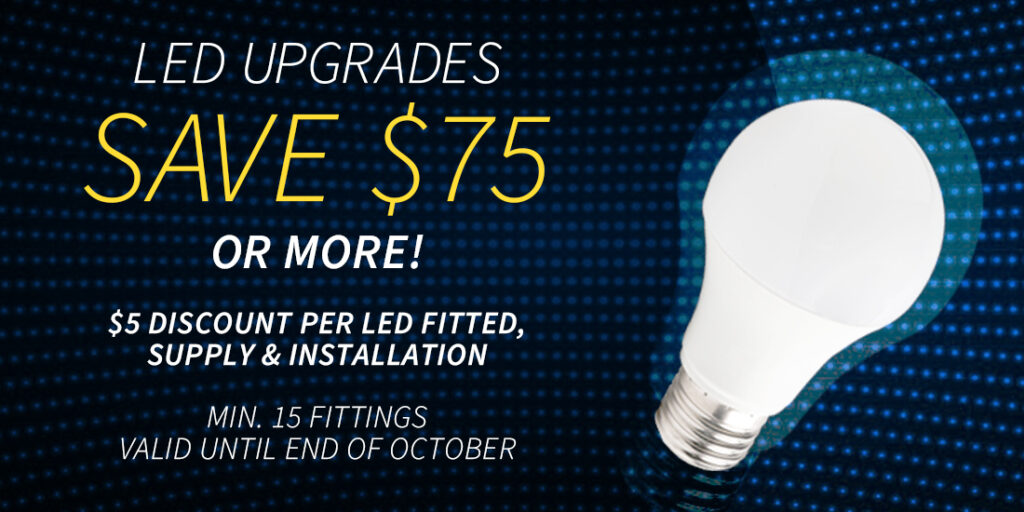 Now is a great time to update your LED lights! Until the end of October 2023, we're offering a special discount on LED upgrades of $5 off each LED fitted, supplied & installed (minimum 15 fittings). This is a fabulous opportunity to make the most of LED lighting technology, with the potential to save $75 or more on your installation. Terms & conditions apply.
Benefits of LEDs:
Upgrade to LEDs today and reap the benefits of energy efficiency, cost savings, and enhanced lighting experience. 
LEDs use up to 90% less energy than traditional bulbs
Reduce your electricity bill
With a lifespan of up to 25 times longer, you'll save on replacement costs 
Enjoy brighter, clearer illumination that enhances visibility and mood in your space
LEDs are eco-friendly, producing fewer greenhouse gases
Plus, they emit less heat, making your home safer. Book an LED lighting upgrade today: