On the Sunshine Coast, Air-Conditioners are the most popular solution to keep living and working conditions bearable, especially during the summer heat. In this exciting article, we take a look at how to optimise AC usage to make sure we're getting the most chill for the lowest cost and energy usage. If you're interested in an air-conditioner solution for your home or business, don't hesitate to contact our team – we're experienced with all aspects of air-conditioning and service Noosa and surrounding suburbs on the Sunshine Coast.
Reducing Air-Conditioning Running Costs with Solar
Using solar power to run your air-conditioner is a long-term solution that can help to reduce costs in the long-term. Over time, a key benefits is being able to run your appliances during the day without paying for power from the grid. Meanwhile, if you already have solar, it's important to maximise solar power usage for your AC (as opposed to power from the grid). An example might be cooling down your rooms before the evening comes – instead of waiting until it's dark, when you will need to use power from the grid.
Using Optimal AC Modes
AC units have a wide variety of modes and on a hot day it can be tempting to hit 'Siberia'. However, launching into the coldest and most powerful mode is not the most efficient way to use your air-conditioner. Economy modes optimise the way the air-conditioner works to get a great result without redlining power usage. For example, Daikin's Econo Mode [SRC: Daikin ] prevents excessive cooling and only uses 70% of the appliance's capacity. This achieves cooling without wasting electricity.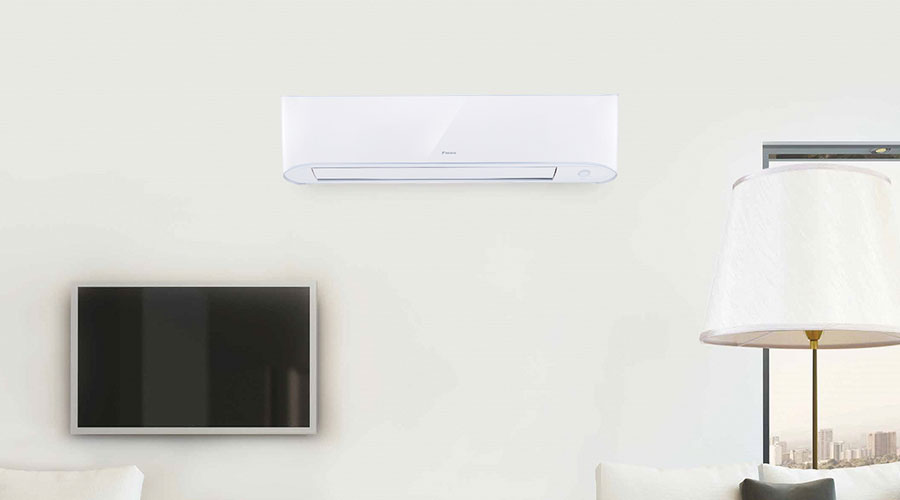 Awareness of Modern Features
If you're looking to purchase an air-conditioner, it's important to come at it from an energy-efficiency point of view. Pay attention to your prospective machine's features. For example, some Daikin split systems come with 'Intelligent Eye', which monitors whether a room is being used, and adjusts the AC delivery to suit usage.
Awareness of Ratings
For new air-conditioners, pay attention to energy rating labels. These give an indication of both energy efficiency and energy consumption, helping you to appreciate how a specific appliance compares to its peers.
Use the Right Air-Conditioner
While there are many different types of air-conditioners, some are more energy-efficient than others, depending on the type of premises you are cooling. For cooling bedrooms and larger rooms, small, portable air-conditioning solutions are generally the least energy efficient appliances. Split systems are the recommended solution in most cases, since they are more energy efficient, and can achieve and sustain comparable cooling without requiring as much power. However, they do cost more upfront and they're not portable.
Optimising Usage
An important step towards optimising your air-conditioning is to only cool the required rooms, and for these rooms to be sealed from the outside. If you're cooling the entire house, and all of the doors and windows are open, you might as well just throw your wallet out the window – which won't be a problem, since the window is already open. Using air-conditioners minimally and within sealed rooms is effective an effective way to cool the home that won't require the AC to use its full power.
In Conclusion
Like any appliance, air-conditioners can and should be optimised. With AC, this process starts right at the beginning – selecting an appropriate system for your home – and then operating the system in an efficient manner. If you'd like to know more about AC on the Sunshine Coast, contact our team – we are here to assist.