To make sure your home or business is energy efficient, it's essential to have the capability of monitoring energy usage in real time. Whereas in the not-too-distant past we needed to rely on quarterly reports from energy providers, there is now a wide range of technology available to help consumers understand how they are using energy and how that usage can be optimised.
How to Monitor Energy at Home
Energy usage can be monitored by the installation of monitoring technology between your incoming power source and your appliances. This is especially important for solar installations, since generating your own energy only makes sense if you are optimising the usage of the energy you are collecting.
*Note – all of our solar solutions come with an energy monitoring app so you can track and manage your energy. Learn more about our solar solutions here.
To give you an idea, here are some screenshots that come from our Enphase solar installation at Noosa Electric Co HQ at Noosaville:
Diagram #1
Diagram #1 Notes: This was an overcast day. This day began with the necessity to draw power from the grid [a] before the solar collection picked up [b]. Working with solar power means an increased awareness of weather and solar collection to optimise your power configuration in real-time. Towards the end of the day, solar collection reduced again and a combination of grid and solar power was utilised.
Diagram #2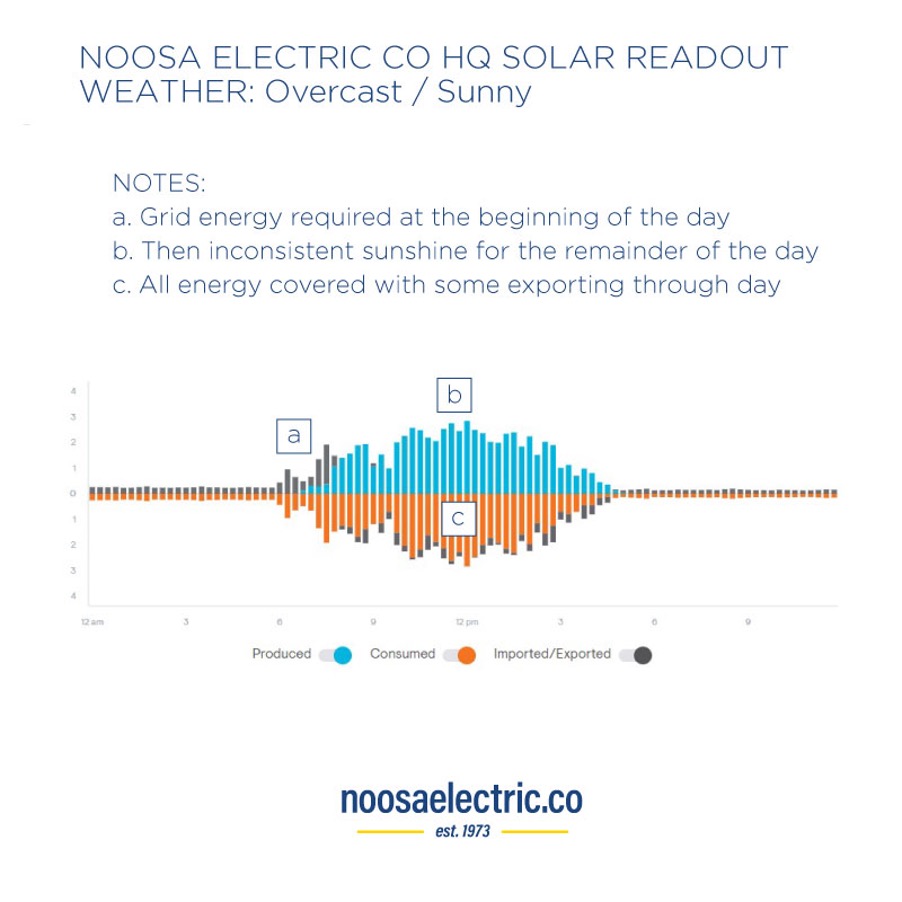 Diagram #2 Notes: This day also began with overcast weather. However, grid power was rapidly overtaken by solar power. The uneven shape of this graph indicates solar power was coming and going through the day, due to overcast conditions. However, sufficient solar power was collected through most of the day to power our office and export some back to the grid as well.
Diagram #3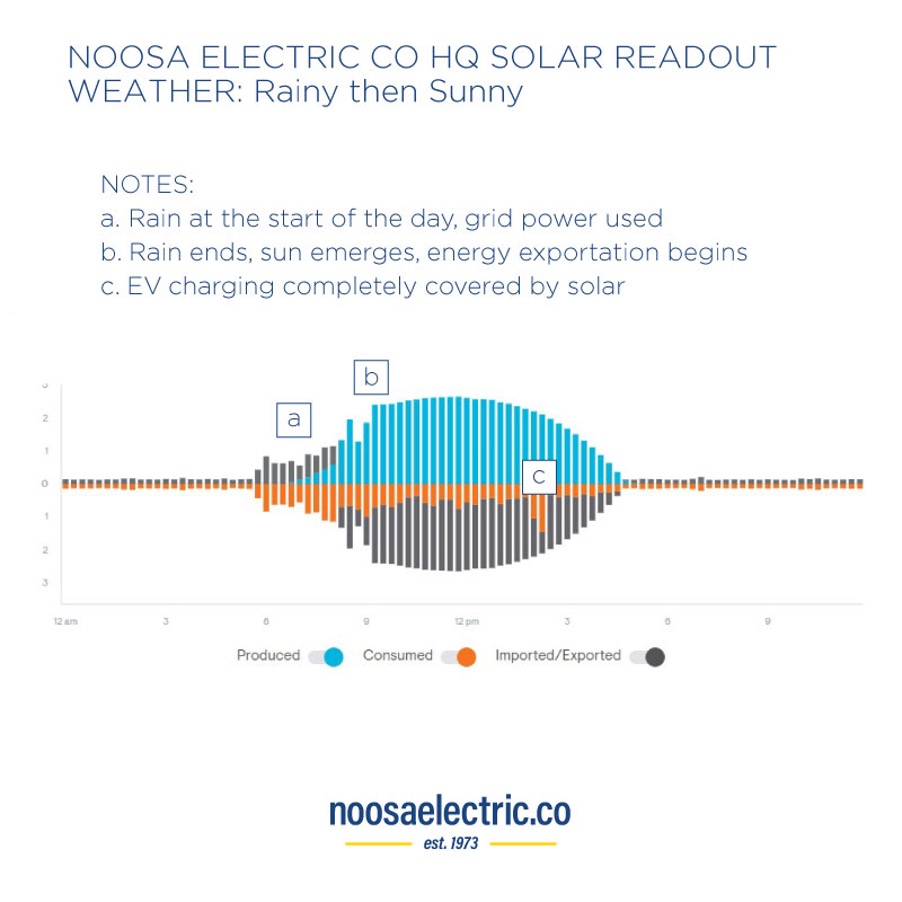 Diagram #3 Notes: This day began with rain. After the weather cleared, the rest of the day is in a perfect "football" shape, indicating great solar collection and export to the grid. You can see where our EV was charged later in the day, an event totally covered by solar power. It's important to ensure this type of major event is covered by solar power.
Diagram #4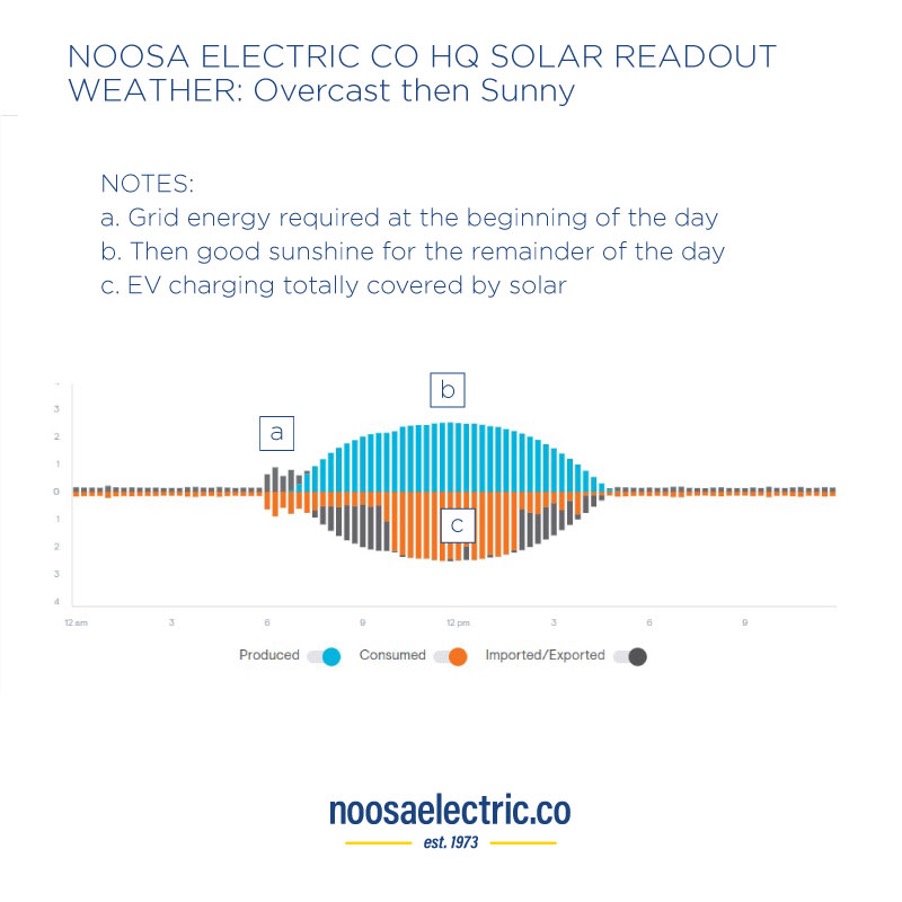 Diagram #4 Notes: This is a perfect day of solar energy collection. We did need to use grid energy at the beginning of the day, but that's because we started work before the sun came up. After this period we enjoyed great solar collection with EV charging being undertaken through most of the day.
Diagram #5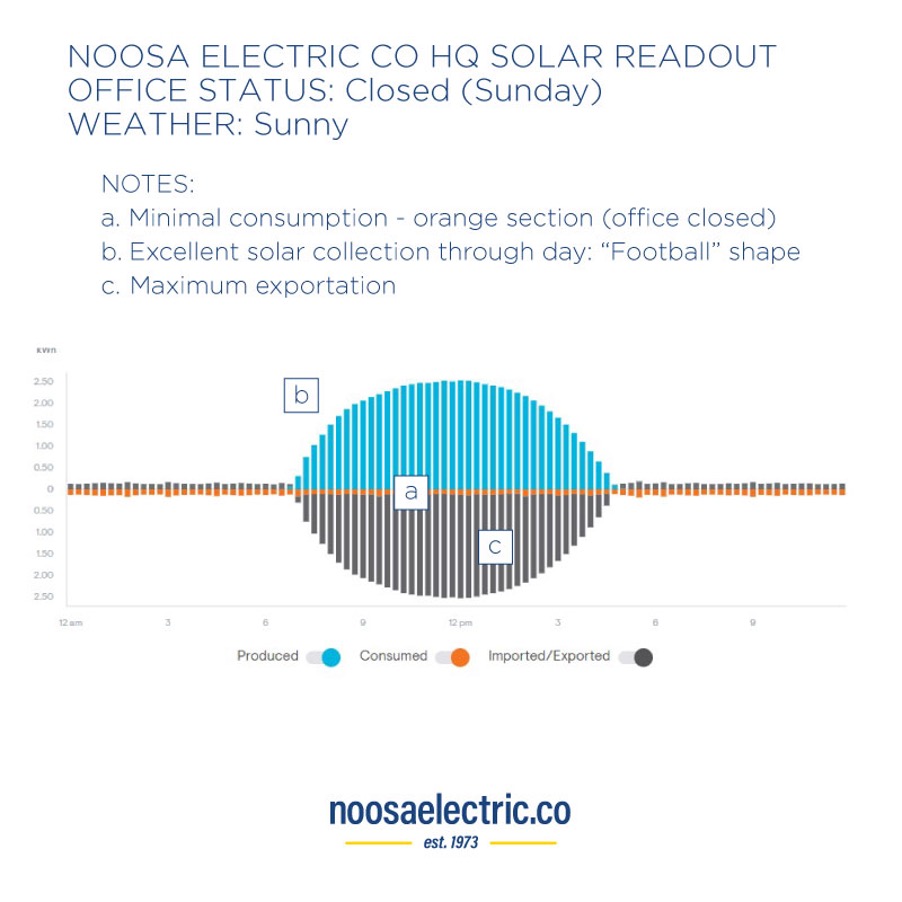 Diagram #4 Notes: This is a perfect day of solar collection. This was a Sunday, so we weren't using any energy today (apart from the bare minimum to keep things ticking along). Most of this energy was exported back to the grid.
In Conclusion
Solar energy is a fabulous way to collect energy independently, especially on the Sunshine Coast where we have an abundance of sunlight all year round. Making the most of solar energy requires a solar solution and energy management and optimisation. For assistance with your solar solution, please contact our team – we are here to assist.