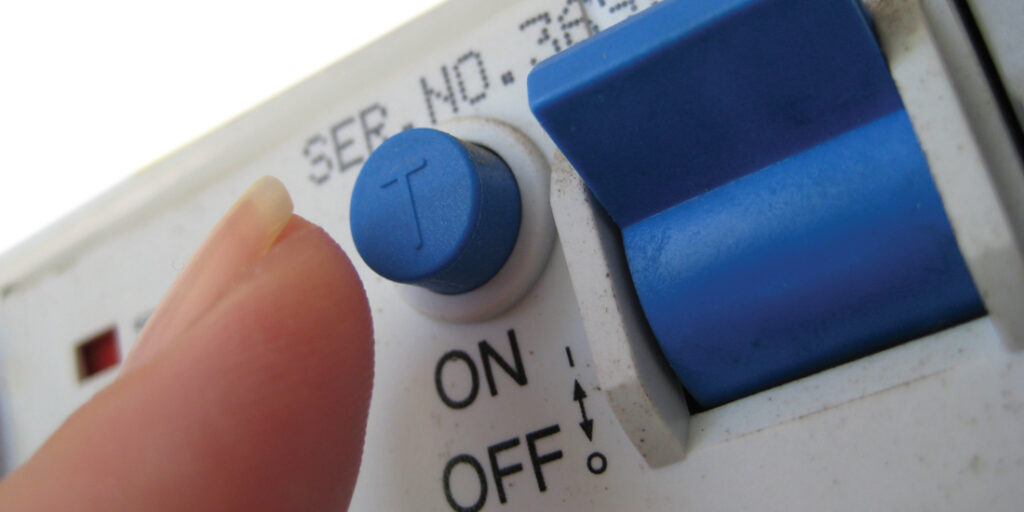 RCD stands for Residual Current Device. They are a safety device used to protect people from electrical shocks and fire hazards caused by earth faults in electrical circuits. The three things you need to know about RCDs are:
They are essential to have
They require regular testing
They are recommended on every circuit by the Electrical Safety Office.
Our team is here to help.
How Do RCDs Work?
RCDs are located in the switchboard, where they monitor an electrical circuit. They detect changes in the current, which occur when there is a fault or incident involving electricity – for example, you accidentally cut into a, or come into contact with live electrical parts. Without an RCD, this could cause the current to flow through your body causing injury or death by electrocution. The function of the RCD is to detect the change in current and disconnect the power supply to the circuit, saving your life.
Benefits of RCDs:
1. Protection
RCDs provide additional protection against electric shock, reducing the risk of injury or death in the event of an electrical fault.
2. Reduced fire hazards
By quickly disconnecting the power during a fault, RCDs can help prevent electrical fires caused by faulty appliances or wiring.
3. Enhanced safety in Wet Areas
RCDs are particularly important in areas where water is present, such as bathrooms and kitchens, where the risk of electric shock is higher.
4. Complements traditional circuit breakers
RCDs work in conjunction with circuit breakers (overcurrent protection) to offer comprehensive electrical safety.
RCD Testing
In addition to having RCDs as required in your switchboard, they must also be regularly tested to ensure they are functioning as required. This will ensure they are ready to work when they are needed. Book an RCD test with our team to ensure your RCDs are operating properly:
Do I Have an RCD?
If you're not sure whether you have an RCD or not, you can upload a photo of your switchboard to our website here with the form below and our team can let you know.
RCD Visual Check

Switchboard Visual Check

"*" indicates required fields
---
Alternatively, contact our team to discuss your RCD: Discuss Your RCD (Safety Switch) Requirements: