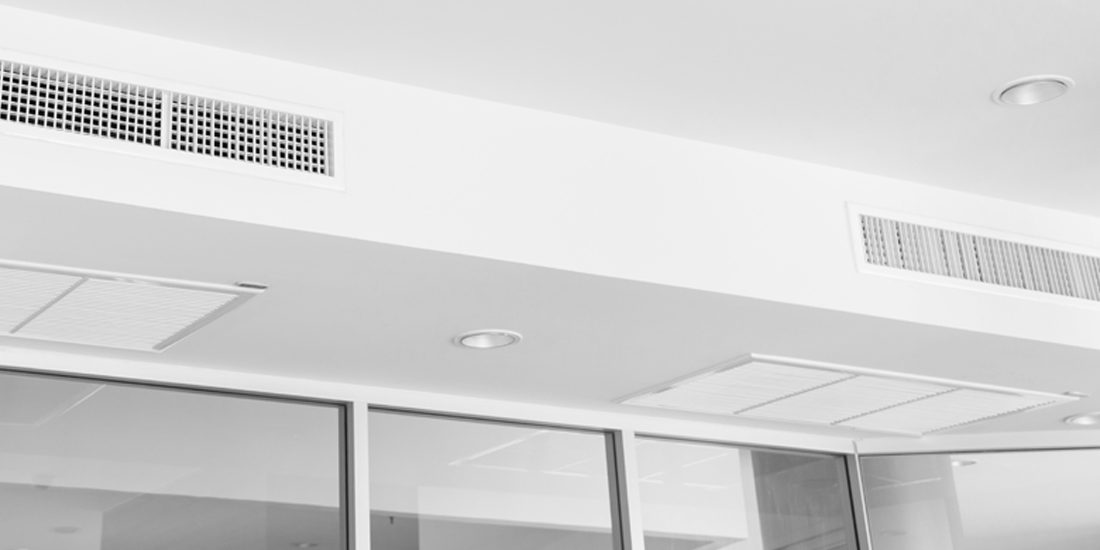 Air-Conditioners come in many shapes and sizes, and it can be bewildering to try and understand what the best solution is for your home or business. In this article, we examine popular types of AC units and look at the pros and cons of each approach. Our approach takes into account the context of the rooms you're looking to cool, and we also cover Kilowatts and their meaning in an air-conditioner purchase.
Why Understanding Air-Conditioner Types is Useful
Understanding air-conditioner types is useful to optimise your air-conditioners performance, running costs, maintenance requirements and longevity. Getting the right unit for the job will ensure it has the capability to manage your internal environment while operating within an optimal capability range.
There are a wide range of important considerations to take into account, which we cover in this article. If you're on the Sunshine Coast, please don't hesitate to contact our team to access our expertise in all things AC, including sales, installation, servicing, repairs, maintenance & cleaning.
Understanding Costs
The upfront cost of an appliance is always an important factor. However, appliances last (hopefully) a long time. Bearing in mind your air-conditioner may have a lifespan of 10-15 years, there are other costs which should also be taken into account. By being aware of these at the time of purchase, you can make a better-informed decision about the type of air-conditioner best suited to your needs over the long term of owning the appliance.
Here are the cost considerations to be aware of:
Purchase Cost: The initial cost of the air-conditioner
Installation Cost: When an installation requires an electrician (for example, a split system or ducted system) there will be an installation fee that will depend on the time and complexity of the installation.
Running Costs: The more you use your air-conditioner, the more electricity it will use. The cost of running your AC will depend on extent of use, and the efficiency of the unit.
Service Costs: Like any mechanical appliance, air-conditioners work best with regular servicing and cleaning.
Repair Costs: Higher quality brands will generally work longer and more reliably, just like any purchase. The cost and frequency of repairs required will depend on the AC unit, how well it is looked after (e.g. regular servicing) and how old it is.
The Goal to Aim For:
The goal when purchasing an air-conditioner is to acquire a unit that is well-suited to the task, adequately powerful, as efficient as possible, and of a good brand and model that will reduce problems and costs in the long run.
Reviewing Your Internal Layout
It is essential to review, and understand, the layout of your premises to select an air-conditioner that will suit your goals. For example, the kW capacity of your air-conditioner will need to be optimised to the space you want to cool (there's more on this topic below). Also, the number of rooms you wish to heat or cool will also affect your decision. Here are the main points to take into account when assessing your layout:
How many rooms do I want to cool?
How big are these rooms?
Are they joined, or separate rooms?
How many levels are there in the premises?
Is it for residential or commercial purposes?
There are some handy resources available related to this topic at: lookforthetick.com.au. Don't worry – when you discuss an air-conditioner sale or installation with our team, we'll help you solve all of these problems, as we are experts in this field.
---
Understanding Capacity – Kilowatts
Air-Conditioners have a kilowatt rating which determines the size of the room that they are capable of cooling. Very important! This affects both the capability and the cost of the unit. Capacity is represented in KiloWatts (Kw) and more Kw means more capacity. It also means that the air-conditioner will cost more to purchase. Therefore, you want to get an air-conditioner unit which has a suitable capacity for its intended purpose. You can get some great insight on this aspect at this article by choice.com.au.
According to appliancesonline.com, the following guide can be used to calculate the required Kw:
Generally speaking, you'll need roughly about 0.15 kilowatts per square metre. For example, a smaller room that measures 20 square metres would need an air con around 3kW, while a 60 square metre room would need a device capable of delivering around 9kW. If your wattage is too low for your room, the air conditioner won't be able to lower the temperature efficiently.
When you talk to our team, we will give you a free quote for your air-conditioner and also determine a suitable capacity brand & model for your purposes. It is also worth noting that an energy-optimised home utilises solar to power appliances. Visit this page to learn more about solar power solutions with Noosa Electric Co.
---
Types of Air-Conditioners
Following are popular, common styles of air-conditioning solutions. At Noosa Electric Co, our sales and installations include either split systems or ducted systems, but our AC technicians perform repairs, servicing and maintenance on most common air-conditioner modalities on the Sunshine Coast.
Portable & Window Air Conditioners

Portable air-conditioners are a single, standalone unit that you plug in to use, like any other appliance. They can be moved from room to room. Window air-conditioners are similar, except that they are mounted in a window frame, and are generally a more permanent installation. Both of these options are relatively inexpensive, and may not require professional installation. However, their energy-efficiency, running costs, cooling-capability, loudness and appearance may not make them practical for a long-term air-conditioning solution.
---
Split System Air Conditioners
Split systems are one of the most popular air-conditioning options for homes and businesses on the Sunshine Coast. They are called 'split' systems because they are made up of 2 separate components, an indoor and an outdoor unit (see below). These type of air-conditioners come in a variety of different models, which are suitable for cooling single rooms (split system, mini-split system) to multiple rooms (multi-split, multi-head split).
Indoor Unit
The indoor unit is mounted inside on the wall, and emits cool air into the room. The indoor unit can be controlled with a remote to modulate internal cooling or (depending on the model) heating. The indoor unit is connected to the outdoor unit, which is also known as the condenser or heat exchanger.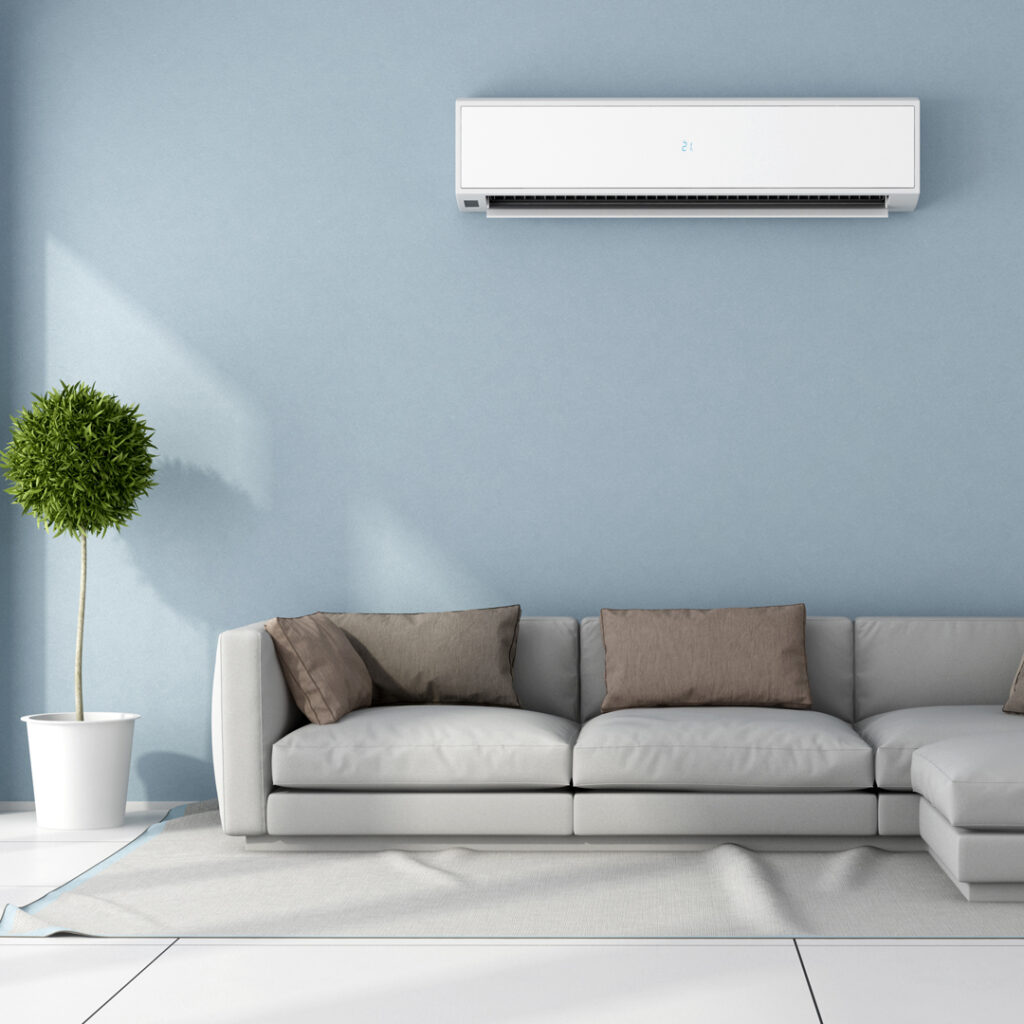 Outdoor Unit
Also known as the condenser or heat exchanger, the outdoor unit sits outside and works together with the indoor unit to produce your air-conditioning.
This image displays the outdoor unit in a split system configuration. You can see the piping that connects the units. This piping is usually more discrete, but it depends on the installation.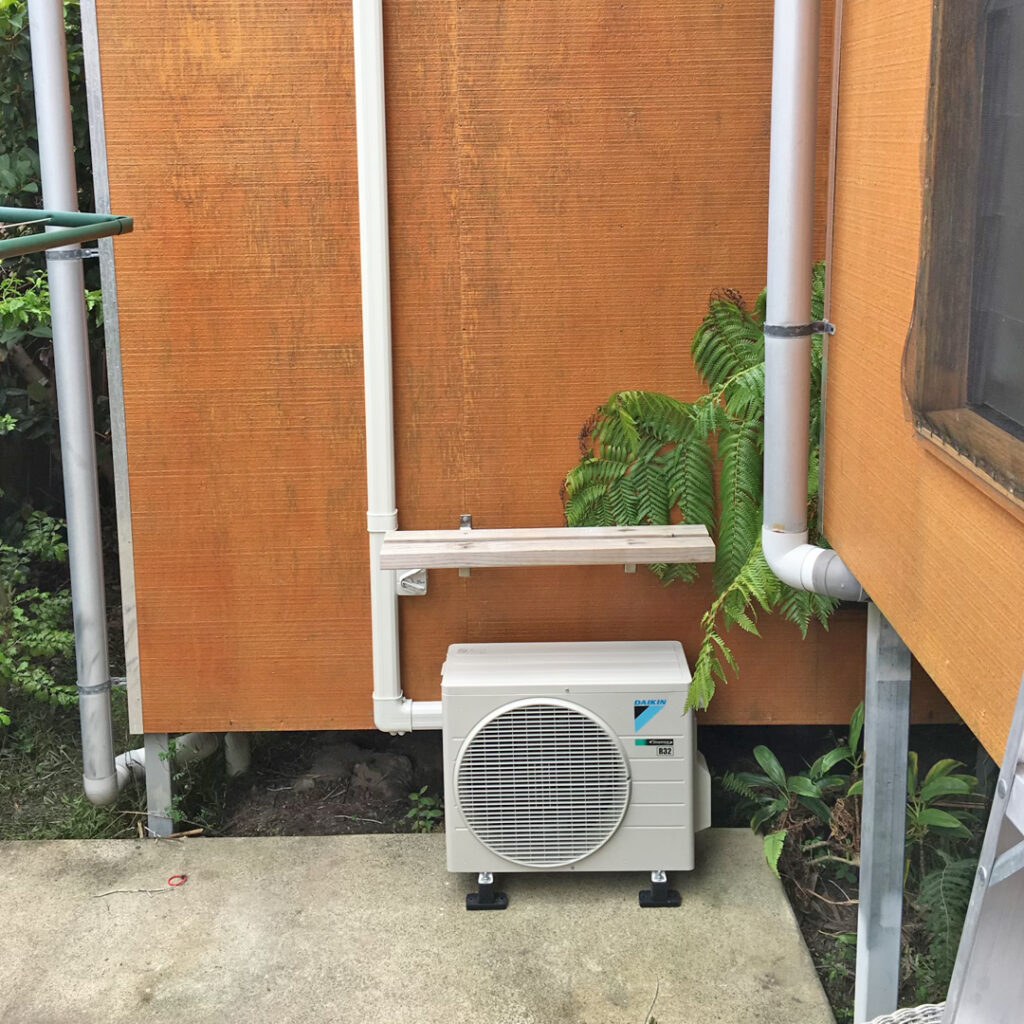 Single Room Split System Air Conditioning
Single split system air-conditioners, or mini splits, are designed for cooling a single room. These are the go-to for most of our Sunshine Coast residential AC installation jobs. The separated split system design is more efficient and capable than integrated units such as the portable or window air-conditioners mentioned above. They also have a more streamlined appearance, taking into account the capability of the unit, since half of the system resides outside. Split system air-conditioners require installation by a professional electrician.
A key advantage of split systems is that they can be easily retro-fitted to established homes or businesses. This isn't always possible with a ducted air-conditioner (see below), which are integrated into the actual building, usually at the time of construction.
There are quite a few choices to make when evaluating a split system for your home or business. Our team is here to help. We can guide you to a suitable brand and model for your purposes, and our electricians will install the unit for you.
Split System FAQ
What is the difference between a Split System and and an Air-Conditioner?

A Split System is a type of air-conditioner. There are quite a few different types of air-conditioners – read all about them on this page! A split system gets its name from the fact that it comes in two parts, and indoor and an outdoor unit, which work together to create a complete air-conditioning solution.
Can split systems heat as well as cool?

This capability depends on the model. A reverse cycle air-conditioner can heat as well as cool. If you want this capability in your air-conditioner, make sure the model you're looking at includes the reverse-cycle feature.
Learn more
Multi-Head Split System Air Conditioners
A multi-head, or multi-split system air-conditioner is a type of split system for situations where more than one room requires air-conditioning.
With a multi-head split system, a single outdoor unit is linked to multiple indoor units (rather than just the standard single unit). This enables cooling, or heating of multiple, separate rooms.
Another popular option for air-conditioning multiple rooms is ducted air-conditioning. However, ducted air (see below) needs more space to install and is integrated into the building design, whereas split systems, including multi-splits, can be installed more easily because of their agile disposition.
Multi-Split FAQ
Can you heat some rooms and cool others simultaneously?

According to Daikin, this isn't possible. While individual rooms can be set to different temperatures, they must all be either heating, cooling, or turned off. However, you can apply different degrees of heating OR cooling to all the rooms. Features like this may depend on the model.

Split System Advantages

Energy efficiency: Split systems are generally more energy efficient that smaller portable AC units
Quiet operation: the design allows for noiser components to be located outside the home
Air Quality: split systems generally include filters which help to improve internal air quality
Installation flexibility: within available placements, there is a variety of different ways to install split systems
No ductwork: split systems include an indoor and an outdoor component – no ductwork
Retrofittable: Split systems can be retrofitted
Quick installation: Split systems can be quickly installed by a professional

Split System Disadvantages

Requires wall space
Limited placement options (the indoor and outdoor units work together, so both must be considered in placement)
Inflexible: once installed, a split system can not be easily relocated
Complex installation: split systems must be installed by professionals
Price point: split systems are not the cheapest air-conditioning option available.
Learn more
---
Floor Standing Air Conditioners
Floor-standing units are like a split system in all regards except that they are mounted on the floor (split systems are mounted on the wall). Otherwise, they're the same – there is an indoor unit, an outdoor unit, and they can be fitted or retro-fitted to a home or business by a licensed electrician.
Learn more
---
Ducted Air-Conditioners
Ducted air-conditioners are an integrated air-conditioning system that is built into the actual structure, usually at the time of construction. They can be used to cool an entire building, and perform large-scale cooling more efficiently than other types of air-conditioners. Ducted systems involve an outdoor unit, an indoor unit (unlike the split system, this indoor unit is tucked away out of sight), and the ducts, which run from the central unit through to other rooms, and which give the system its name.
Ducted systems have a very low internal profile – all of the works are hidden from sight, and the air flows from discreet vents.
Ducted air-conditioning systems are optimal for larger homes or commercial premises with single or multiple rooms. However, because ducted systems are built into the structure, it may be difficult or impossible to retro-fit them.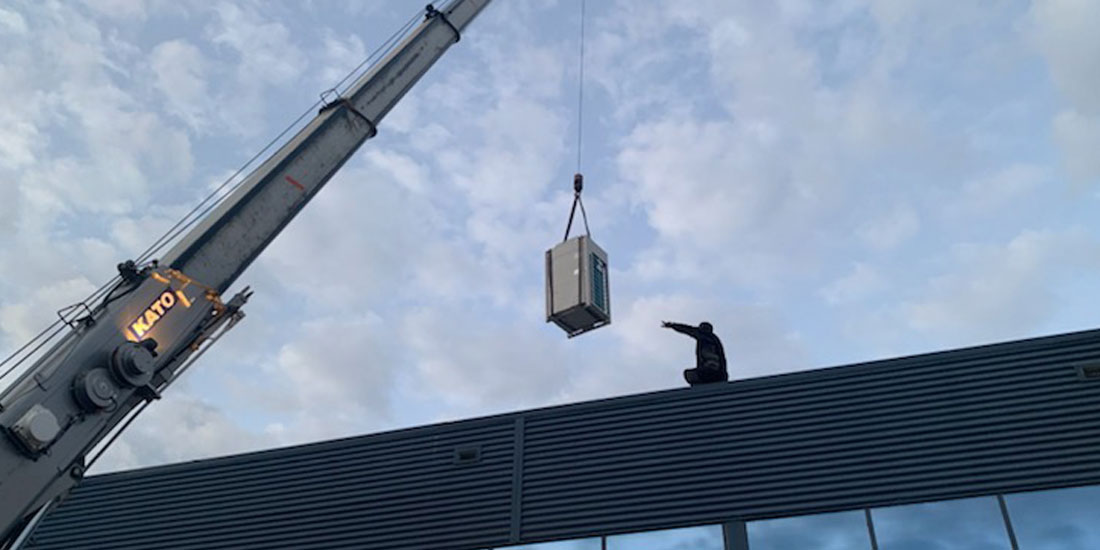 Ducted AC FAQ
Is Ducted AC better than a split system?

Ducted and split systems serve different purposes. While the purpose of a split system is to cool a single room, or in the case of a multi-split up to 5 rooms, Ducted air-conditioning can cool an entire home. Ducted may be a better option if you're looking to air-condition a larger space, but because it is integrated into the building, usually needs to be included at the time the home is constructed.

Ducted AC Advantages

Whole-building capability: Ducted systems can heat your entire home.
Neat and tidy: ducted systems are tucked away internally, so they are very discrete
Quiet: like split systems, the compressor and fan are outside, keeping it quiet inside
Zoning: Ducted systems can create different environments within the home
Even distribution: Ducted systems can achieve an even distribution of air through rooms, since air comes from multiple sources

Ducted AC Disadvantages

High installation cost
Complex installation
More difficult to retrofit
Inefficient if used incorrectly (i.e. heating / cooling unused rooms)
Require regular maintenance
Take up more internal space (in wall / roof cavities)
Limited flexibility: Ducted systems are a permanent installation and can not be easily modified post-installation.
---
Bulkhead Air-Conditioning Systems
Learn more
Bulkhead air-conditioning systems are a type of air-conditioner that is installed in a wall or bulkhead. Unlike split systems, where the internal unit is visible, the internal bulkhead unit is tucked away out of sight, emitting cool air into the room via a low-profile grille. Like ducted systems, bulkhead systems are integrated into the structure and their installation generally need to be done as part of a construction or renovation process.
Learn more
---
Cassette Air Conditioners
Cassette air conditioners are another unobtrusive type of AC solution, distinguished by the fact that they are located in the ceiling.
This fact enables conditioned air to be generated from a central distribution point (unlike split systems, for example, which are mounted on one wall), achieving immediate 360 degree distribution of cool air around the room. Cassette air conditioners are better suited to light-commercial or commercial applications for this reason.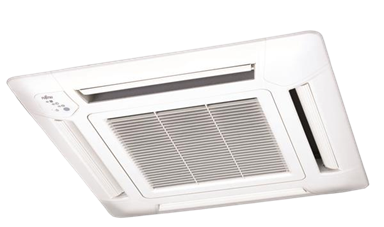 Learn more
Air Conditioner Services Noosa
We are experienced in working with all aspects of air-conditioning. Talk to our team for a new air-conditioner, AC servicing, maintenance and repairs. We service Noosa and surrounding suburbs.
---
Further Reading
In this exciting article, we take a look at how to optimise AC usage to make sure we're getting the most chill for the lowest cost and energy usage.